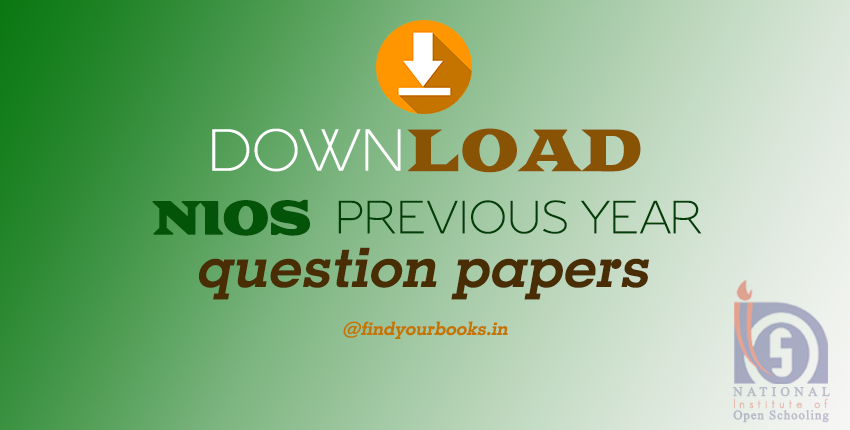 NIOS Examination Patterns and Previous Years Question Papers
National Institute of Open Schooling- NIOS is a National Open Board for Secondary and Senior Secondary Education, Recognized Worldwide. If you are newly enrolled for 10th or 12th examination this is obvious to have concerns about the Exam Pattern of NIOS and you want to go through with the Previous Year's Question papers.
This will help you to plan for your examination and study schedules, since this Open Boards so classes are not provided and students have to study from the home with the provided study material or Text books from NIOS.
NIOS Exam Pattern
NIOS has its own syllabus and provides the text books to the student by post after the enrollment, exams are conducted twice a year First one in March-April and Another in October every year. Apart from this NIOS Conducts Exams On-Demand almost every month for those who got failed in few subjects.
Here are the links given where you can download the Previous year's question papers for NIOS for your reference, this will help you understand the NIOS question paper patterns, you may plan your studies accordingly. In case you do not receive the text books from NIOS or you need additional guides helpful for exam preparation you can go thorough www.findyourbooks.in to get the NIOS guides at your home.
NIOS Question Papers- 2016

10th – April Session 2016
12th – April Session 2016
10th – October Session 2016
12th – October Session 2016
NIOS Question Papers – 2015

10th – April Session 2015
12th – April Session 2015
10th – October Session 2015
12th – October Session 2015
NIOS Question Papers 2014

10th – April Session 2014
12th – April Session 2014
10th – April Session 2014
12th – October Session 2014
NIOS Question Papers 2013

10th – April Session 2013
12th – April Session 2013
10th – October Session 2013
12th – October Session 2013